Pilatus PC-12 NG – N77SD
| Make | Model | Year | Registration | Serial # | Price |
| --- | --- | --- | --- | --- | --- |
| Pilatus | PC-12/47E | 2008 | N77SD | 1001 | Make Offer |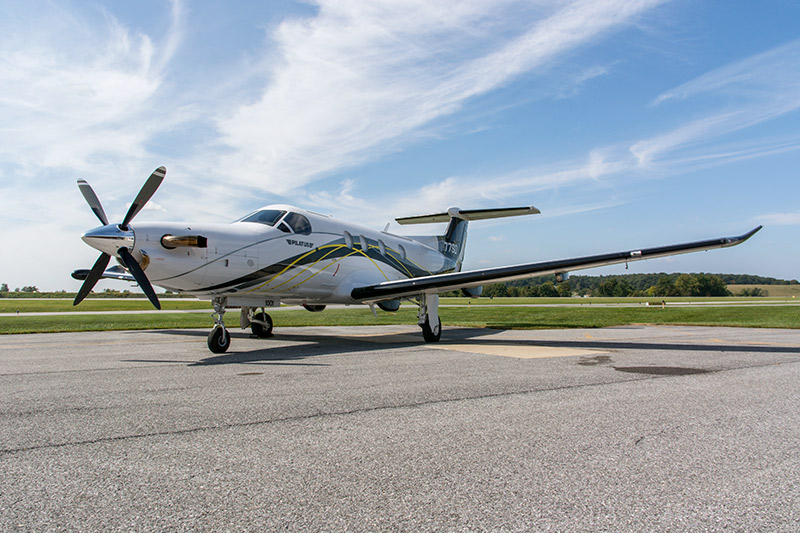 Details
AIRFRAME
Turn-Key Aircraft
No Damage History
Factory-Authorized Service Center maintenance since new
RVSM Capable
Pulsing Recognition Lights
4-Blade Propeller
Dual Pitot Static System
Dual Lead Acid Batteries
Engine Trend Monitoring since new
ENGINE(S)
Pratt & Whitney PT6-A-67P (S/N PCE-RY0001)
Engine Total Time: 2525, 575 SHSI
PROP(S)
Hartzell 4-Blade Propeller (S/N KX484)
Propeller Total Time: 2525
INSPECTION STATUS
Annual Inspection completed 5/2020
Last inspection by Skytech, Inc.
EXTERIOR
BMW Identity Custom Scheme, Overall Snow white with gray, black and yellow accents
INTERIOR
6 Seat Executive Interior
BMW London Custom
Seat Leather = Aeronappa Oslo
Headliner and Upper Sidewall = Hemispheres Mirage – Moonbeam
Lower Sidewall = Maharam pebble wool multi-002 Slate
Cabinets = Quartered red gum, satin finish, natural stain
Carpet: Vanguard, smokescreen
8 Seat Oxygen System
3 Cabin Power Outlets 110V AC
Pilot and Co-Pilot Map Holder
Baggage Net Installation
Air Conditioning
AVIONICS
Honeywell Apex Avionics System
Cursor Control Device
Connected Flight Deck
Honeywell HAPP and MPP extended warranty programs valid through 5/2021
Co-Pilot Audio/Marker Panel
Dual WAAS GPS with LPV
Coupled VNAV
2 Mode S Transponders (Diversity)
XM Weather
Stormscope WX500
TAWS A (EGPWS Mk VI) & TCAS 1 (KMH 970)
Nav Interface to ELT (406 MHz)
Honeywell ChartLink
Satcom Antenna Executive (including antenna cable)
Logo Light (Vertical Stabilizer)
*Specifications subject to verification upon inspection. Aircraft subject to prior sale.