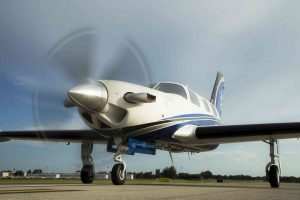 VERO BEACH, Fla., Sept. 9, 2016 – Piper Aircraft, Inc. was granted a Production Certificate for its new advanced, single-engine M600 turboprop by the Federal Aviation Administration on September 1, 2016 at its Vero Beach, FL. headquarters.
 "Being granted the Production Certificate is the latest in a series of significant milestones for this innovative aircraft," said Simon Caldecott, Piper Aircraft President and CEO. "In June we received the Type Certificate for the M600, an aircraft which promises to redefine comfort and convenience. On July 12, 2016, our launch customers, Jerry and Jack Wardlaw, veteran Piper owners, took delivery of the very first M600 off the production line. Today, we round out those milestones by receiving the Production Certificate from the FAA. That is a lot to accomplish in such a short time and we are proud of the team that brought it about."
The Production Certification grants Piper the authorization to produce, flight test and issue airworthiness certificates for the M600 for customer deliveries.
---
Visit www.piper.com for more information