The Pilatus PC-24 P01, the first of two currently flying test prototypes, made its public debut at EBACE last week in Geneva, Switzerland.  A third PC-24 is set to join the program towards the end of 2016.  Well on its way to anticipated certification at the end of 2017, the PC-24 is by all accounts not only meeting, but in some cases exceeding, projected numbers.  Pilatus Chairman Oscar Schwenk expanded on the status of the program at the show:
"Together, the two prototypes have completed 300 flights and over 500 hours in Switzerland, Spain, Scotland and Iceland.  In the past few months we have conducted numerous important tests to explore the flight envelope and observe how the aircraft handles in natural icing conditions.  The results are extremely positive and confirm that the PC-24 will be a superb aircraft in line with the high standards of our 'Pilatus Class' – exactly as our customers expect."
Visitors at EBACE were shown the newly announced cabin interiors for the aircraft.  In conjunction with Pilatus, Designworks, a BMW Group Company has created six stylish color concepts for the PC-24 – each named after a well-known ski resort.  The various color worlds were inspired by the shades of nature found at each location, and have been chosen to convey a feeling of luxury and security.
Much like the extremely successful Pilatus PC-12, the PC-24 cabin is accessible via a forward airstair and aft cargo door, making loading and unloading a breeze.  The 501 cubic foot cabin has a continuous flat floor, fully enclosed, externally serviceable private lavatory, and is lined with thirteen extra-large cabin windows allowing ample natural light to fill the space.  With multiple easy-to-reconfigure layouts to choose from, including a double club option, the cabin can be quickly be arranged to meet individual needs.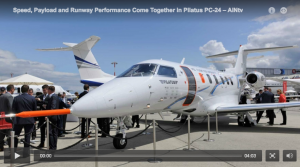 For more information from the show, watch a video from AIN online here.  
---
Contact a Skytech representative for more information on this fantastic aircraft.

pilatussales@skytechinc.com
888-386-3596
Skytech is an Authorized Pilatus Sales & Service Center
PA, MD, DC, VA, WV, NC, SC, KY, TN, OH