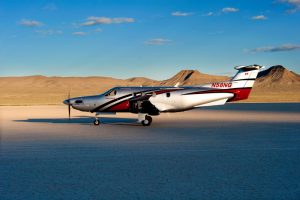 Delivery of 91 PC-12 NG single engine turboprops in 2016 make it officially the top-selling turbine-powered business aircraft in the world. With 91 aircraft delivered to customers around the world in 2016, the PC-12 NG outpaced sales of all other individual models of turbine-powered business aircraft. In mid-2017, Pilatus will deliver the 1,500th PC-12.
 At this year's "Annual Industry Review" press conference, the General Aviation Manufacturers Association GAMA released its 2016 Year-End Aircraft Shipment and Billings report to the public. While overall industry shipments of turboprops and business jets declined by 3% relative to 2015, Pilatus increased sales of its popular single-engine PC-12 NG turboprop by 30%.
New features in the 2016 PC-12 NG increased cruise speed to 285 KTAS (528 km/h), reduced cabin noise levels, offered updated interior design options, and featured more than a dozen drag reduction changes to the airframe, increasing both range and speed. These enhancements were well received in the market, with demand high across the global Pilatus sales network….
---
> Read the full press release here <
Visit www.pilatus-aircraft.com for more information.
---