Aircraft Management Services
Experience matters when it comes to maintaining the operation of your aircraft. The professionals at Skytech will have your aircraft ready when you need it. From propellers to jets, Skytech has the ability to customize a program to suit your needs.
Let our experience be your advantage! Arrive closer to your destination by gaining access to thousands of general aviation airports compared to the limited airline served network. Bring whomever and whatever you need to complete your mission.
Change directions mid-flight, add destinations – whatever you need, the airplane is at your fingertips. Both at the airport and in the air, feel safe knowing your total travel experience is private and secure.
---
Aircraft Management Programs
Management Lite
Designed for the owner/pilot (or owner with access to a pilot) who wants professional oversight of their asset with the ability to support their Part 91 flying with Skytech pilot services on an as needed basis.
Management Plus
Designed for the owner who wants all aspects of aircraft ownership professionally managed.  This includes the aircraft as well as the pilot(s).  Skytech will handle all operational duties to support your Part 91 flying.  Rest assured that your asset and travel needs are in capable hands with many years and thousands of hours of aircraft management and operational experience to our name.
Management Elite
Designed for the owner who wants all aspects of their aircraft ownership professionally managed, as well as the potential for revenue to offset ownership costs when you aren't flying.  Professional management of your aircraft for Part 91 use is combined with adding it to the Skytech Travel LLC Part 135 Charter Certificate to offset costs.  This is a compelling choice for many owners looking to maximize their asset and take full advantage of all Skytech has to offer.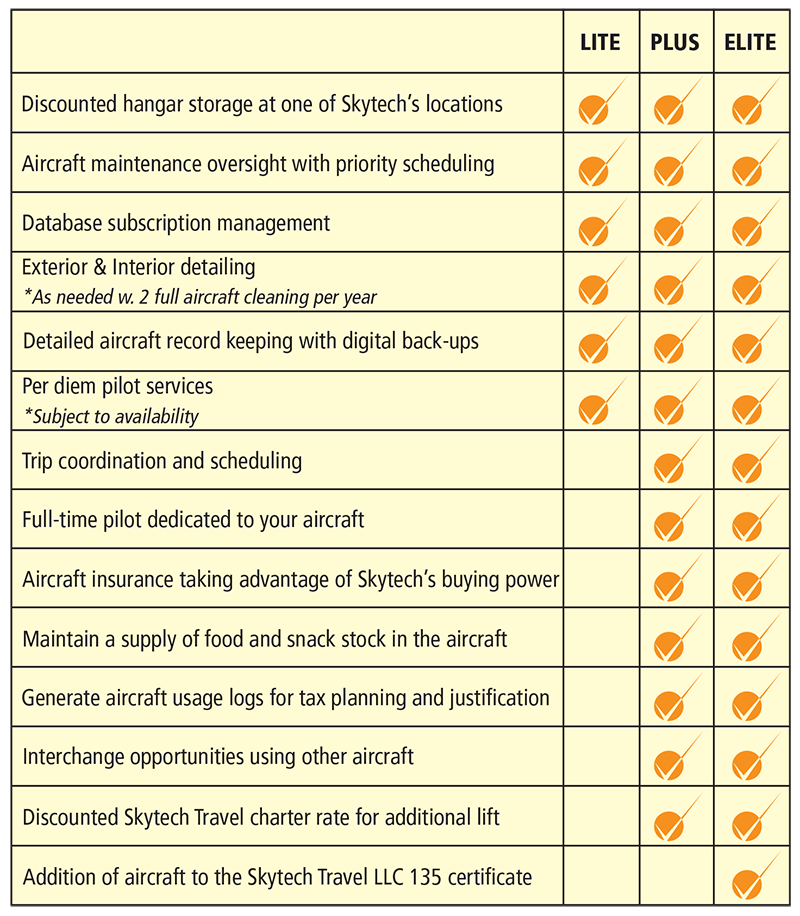 – Contact a Skytech Representative for a breakdown of program costs.
– Program features and pricing for aircraft based at one of Skytech's facilities. Custom programs available for aircraft off-site.
| | |
| --- | --- |
| Member of NBAA | Member of NATA |
Back to the Top