Pilatus PC-12/47E – N417NG
| Make | Model | Year | Registration | Serial # | Price |
| --- | --- | --- | --- | --- | --- |
| Pilatus | PC-12/47E | 2013 | N417NG | 1417 | Make Offer |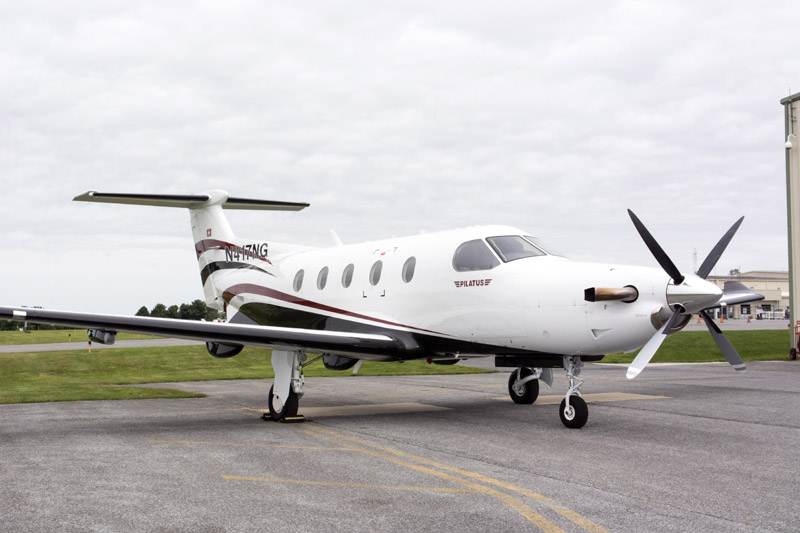 Details
AIRFRAME
1176.2 hrs Total Time
Air Conditioning System
Pulsing Recognition Lights
Dual Lead Acid Batteries
Forward Passenger Door
Large (53 Inch x 52 Inch)
Aft Cargo Door
Polished Exhaust Stacks and Intake Lip
Retractable Trailing-Link Landing Gear Capable of Unimproved Field Operation
Certified for Flight Into Known Icing Conditions
ENGINE(S)
PT6A-67P Engine
SN = PCERY0435
1176.2 hrs
PROP(S)
Hartzell Propeller SN KX1174
INSPECTION STATUS
Fresh 12 mo/300 hr September 2019
EXTERIOR
Overall white base coat with black metallic base. Black metallic and ruby red accent stripes.
INTERIOR
BMW Platinum Interior = "Rocky Mountain" custom
Seat Leather = Aeronappa Calidris with Perforated inserts
Upper Sidewall and headliner = IZIT Snow
Cabin Drinkrail = Aeronappa Calliope
Carpet = Ctm Cord Blue-Grey/Jade-Grey
Cabinets = Qtr Ebony Composite Gloss
Metal finish = Chrome Pearlite
6 + 2 Executive Interior (10 total seats)
Cabin and Cockpit 110 V AC Power Outlets
AVIONICS
US Premium Avionics Package
Synthetic Vision System
XM Graphical Weather
Co-Pilot PFD
TAWS Class B
TCAS I (KT 970)
GPS WAAS Capability
406 ELT Nav Interface
WX 500 Stormscope
ADS-B OUT
2nd GPS
Connected Flight Deck
Cockpit Cursor Device (CCD)
Additional Equipment
Bose Headsets (Pilot & Co-Pilot)
Juke Box Music System
XM Satellite Radio with Wireless Remote
Cockpit Audio Entertainment (XM Radio, Jukebox Music, Audio Input)
4 110 V Power Outlets (cabin/cockpit)
Flight Display Moving Map & Cabin Video
Three 10 in. Displays above each table
LED Taxi/Landing Lights
Satellite Antenna Port
*Specifications subject to verification upon inspection. Aircraft subject to prior sale.