2019 Piper M500 – TBD
| Make | Model | Year | Registration | Price |
| --- | --- | --- | --- | --- |
| Piper | M500 | 2019 | TBD | |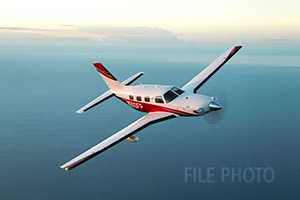 Details
Available in Q1!
The Piper M500 is the first pressurized, known-ice certified, radar-equipped airplane to utilize Garmin's revolutionary Autopilot Flight Control System technology. A by-product of the sophisticated and robust unmanned aerial vehicle Flight Control Systems, the Garmin AFCS acts to warn pilots of excessive pitch or roll and prompt a corrective action. If the pilot continues to fly outside of approved parameters, the autopilot self-engages, stabilizing the aircraft. A LVL button on the panel allows the pilot to activate a recovery to level at any time they feel the situation merits attention. Underspeed Protection limits the aircraft's ability to stall while flying on the autopilot and also paves the way for coupled missed-approaches where all the pilot needs to do is advance the power and clean up the airplane. The autopilot is never disengaged.   More simplicity awaits the pilot in the form of an automated and digital Pressurization System. Tell the airplane on startup what the elevation is for the airport of intended landing and fly the M500. That's it. Additionally, Piper has given the M500 the tools to be a genuine business airplane. When was the last time you made an affordable telephone call from your headset while at FL250? Or sent and received a text from the cockpit? The M500 arranges that for the plot or any of the M500's passengers without interfering with ATC communications.
1,000 NM Range with 45 Minute Reserve
30,000 Ft Maximum Approved Altitude
Pressurized Cabin
260 KTAS Maximum Cruising Speed
Flight Into Known Icing (FIKI) Approved
PiperAire Air Conditioning
Garmin Enhanced Autopilot Flight Control System (AFCS)
Iridium Transceiver (Phone and Text Capability)
Digital Pressurization
3D Audio Panel
Aspen EFD1000 Stand-by System
GTS-825 Traffic Advisory System
USB Charging Ports
*Specifications subject to verification upon inspection. Aircraft subject to prior sale.